Equipments 実験装置
我々のグループでは、回折実験(ラボX線・放射光・中性子)、良質な試料作製、物性評価の一連の実験を、自らの手で行うことができます。
We can carry out various experiments such as diffraction and scattering measurements (laboratory X-rays, synchrotron radiation, neutrons),
high-quality sample preparation, and electronic property measurements by ourselves.
・Four-axis diffractometers (single-crystal XRD)  4軸回折計(単結晶XRD)
・Furnaces(電気炉類)
We have some single-crystal growth techniques.
・Electric measurement system + GM refrigerator(電気特性評価システム)
For dielectric, pyroelectric, and electric resistivity measurements [300-2 K]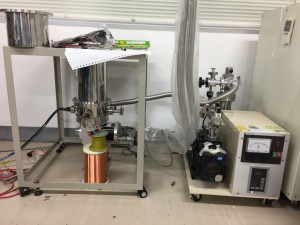 ・Walker type Multi-Anvil High Pressure Apparatus (ウォーカー式マルチアンビル高圧合成装置)
A 180 ton press, Max pressure is ~11 GPa.
・Chemistry Laboratory(化学実験室)
Fume hood, glovebox, etc.